BPS Luncheon
New Science Building Almost Finished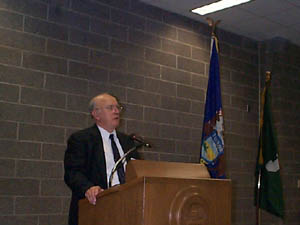 Dec. 15, 2001 - MSU's new Biophysics Science Building (BPS) is almost ready for occupation. Today, MSU said thank you to all of the people who have worked on the design and construction of the facility. The workers and their families were invited to a luncheon and tours of the building. President M. Peter McPherson and Colleen McNamara, Chairperson of the MSU Board of Trustees, were also in attendance and briefly addressed the lunch gathering in the new science library.
Occupation is scheduled for Feb. 1, and the official dedication ceremony will take place on April 12.
The four-story atrium serves as the location for the lunch buffet.

Marc Conlin and Wayne Repko tour the machine shop area, with epoxy-coated vibration-damping wood floor.

Two young Spartans admire the physics teaching lab spaces.