"Astronomical Horizons" Lecture: Michigan's Extraterrestrial Visitors
Title: Michigan's Extraterrestrial Visitors
Speaker: Craig Whitford, Abrams Planetarium Meteorite Collection Coordinator
Free and open to the public.
Date: Thu, 15 Mar 2018, 7:30 pm
Location: Abrams Planetarium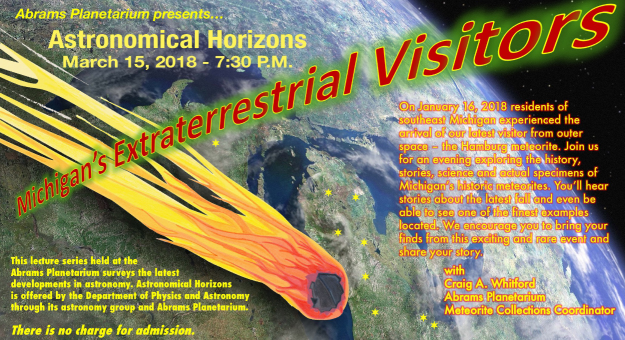 Talk description:
On January 16, 2018, residents of southeast Michigan experienced the arrival of our latest visitor from outer space — the Hamburg meteorite. Join us for an evening exploring the history, stories, science and actual specimens of Michigan's historic meteorites. You'll hear stories about the latest fall and even be able to see one of the finest examples located. We encourage you to bring your finds from this exciting and rare event and share your story.