April 2015: Yearly Departmental Awards for 2015
Release Date: Apr 4, 2015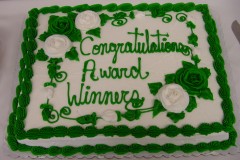 The 2015 Department of Physics & Astronomy Awards were presented at a reception held at 3:00 pm on Thursday, 30 April 2015 in the main conference room, 1400 BPS Bldg.
The award presentation was followed by a concert by the Grand Canonical Ensemble (Physics Choir).
---
Student Awards
The awards for students were presented by Professor Scott Pratt, Associate Chair for Graduate Programs.
---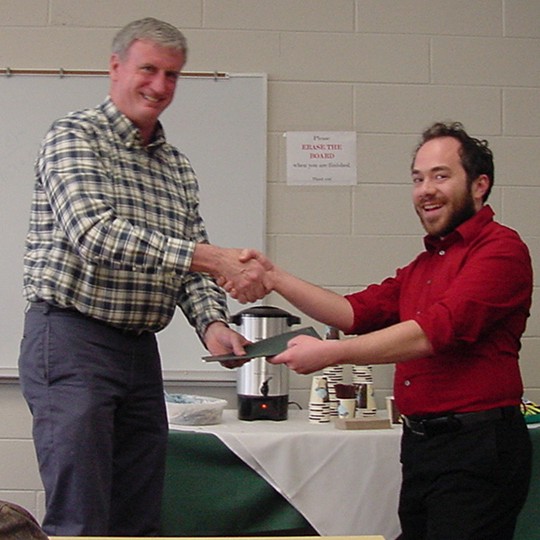 Kaplan Award
The Thomas A. Kaplan Award for Best Graduate Student Seminar was presented to Michael Bennett.
---
---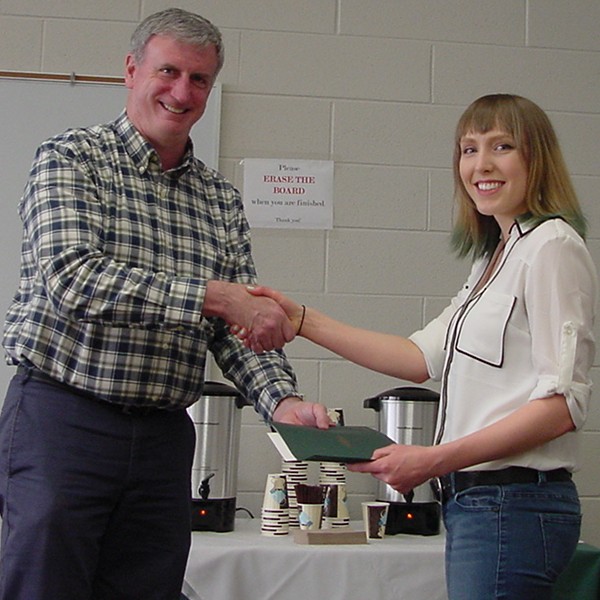 Undergraduate TA Award
Undergraduate Teaching Assistant Awards went to Carolyn Wendeln (pictured) and Andrew Bundas (who was unable to attend the awards ceremony because he was teaching).
---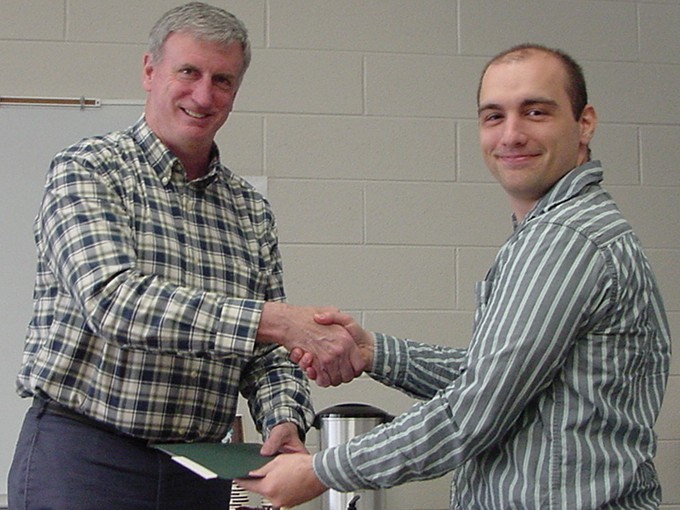 Bruce VerWest Award
The Bruce VerWest Award for outstanding junior undergraduate student was given to Noah Green.
---
Sherwood Haynes Award
The Sherwood K. Haynes Ph.D. Graduate Student Award was shared by Zach Meisel and Yung-Hsiu Tang.
---
Graduate TA Award
The Outstanding Graduate Teaching Assistant Award was shared by Michael Obsniuk, Kelsey Funkhouser and Joseph Glick.
---
Carl Foiles Student Award
The Carl L. Foiles Physics Student Award is a scholarship awarded annually to an undergraduate or graduate student planning a career in teaching and research in physics.
The 2015 Foiles Award was presented to senior Alaina Ross by the late Professor Foiles's son, Allen Foiles, and Dr. Foiles's widow, Ruth Ann Foiles Burnett.
---
Faculty & Staff Awards
The Distinguished Staff Awards were presented by the Department of Physics & Astronomy's Business Operations and Personnel Manager, Marc Conlin. The other faculty/staff awards were presented by the Chair of the Department of Physics & Astronomy, Professor Phillip Duxbury.
---
Distinguished Staff Award
The Distinguished Staff Award was shared by Kim Crosslan, secretary in the Academic Affairs Office, and Tom Hudson of the Machine Shop.
---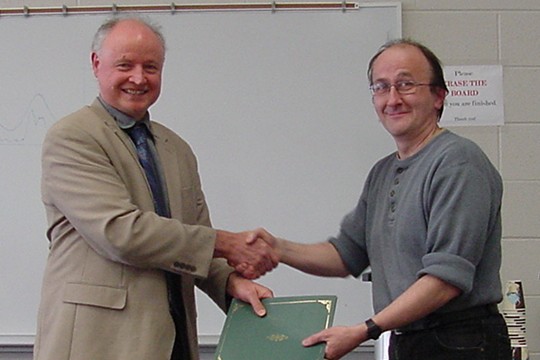 Outreach Award
The 2015 Outreach Award was shared by Tibor Nagy (pictured) and Brian O'Shea (who was unable to attend).
---
Osgood Faculty Teaching Awards
The Thomas H. Osgood Memorial Awards for Faculty Excellence in Teaching are awarded annually, one to one or more non-tenured faculty members and the other to one or more tenured faculty members.
For 2015, the non-tenured faculty award was shared by Danny Caballero (left) and Laura Chomiuk (not pictured). The tenured faculty recipients were Steve Zepf (right) and Jim Linnemann (not pictured).
---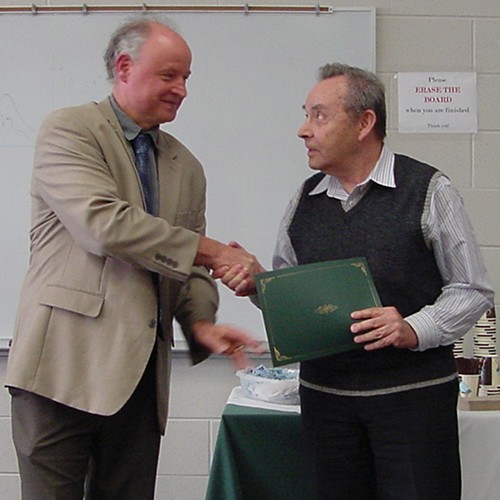 Favorite Grad Teacher Award
The Favorite Graduate Teacher Award is selected annually from among professors teaching graduate-level courses by a vote of the graduate students and was presented in 2015 to Professor Vladimir Zelevinsky. This marks the tenth time he has received this award in the past nineteen years.
---
(click on pictures to see them full-sized)