2016-04: Yearly Departmental Awards for 2016
Release Date: Apr 2, 2016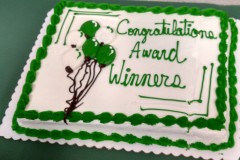 The 2016 Department of Physics & Astronomy Awards were presented at a reception held at 3:00 pm on Thursday, 28 April 2016 in the main conference room, 1400 BPS Bldg.
The award presentation was followed by a concert by the Grand Canonical Ensemble (Physics Choir).
---
Student Awards
The awards for students were presented by Associate Professor Kirsten Tollefson, Associate Chair for Graduate Programs.
Kaplan Award
The Thomas A. Kaplan Award for Best Graduate Student Seminar was presented to Thomas Connor.
Osgood Senior Award
The Thomas H. Osgood Senior Undergraduate Award was awarded to Noah Green.
Undergraduate TA Award
Undergraduate Teaching Assistant Awards went to Claire Kopenhafer, Jason Sammut and Katie Wampler.
Bruce VerWest Award
The Bruce VerWest Award for outstanding junior undergraduate student was shared by Claire Kopenhafer, Hannah Perkins and Anna Turnbull.
Sherwood Haynes Award
The Sherwood K. Haynes Ph.D. Graduate Student Award was presented to Yaxing Zhang.
Graduate TA Award
The Outstanding Graduate Teaching Assistant Award was shared by Walter Buhro and Ben Loseth.
Carl Foiles Student Award
The Carl L. Foiles Physics Student Award is a scholarship awarded annually to an undergraduate or graduate student planning a career in teaching and research in physics.
The 2016 Foiles Award was presented to Elizabeth Drueke by the late Professor Foiles's widow, Ruth Ann Foiles Burnett.
---
Faculty & Staff Awards
Distinguished Staff Award
The Distinguished Staff Award was shared by the staff of Abrams Planetarium: Shannon Schmoll, John French, Shane Horvatin, and Bonnie Sturdivant.
Outreach Award
The 2016 Outreach Award was shared by Pawel Danielewicz and Devin Silvia.
Osgood Faculty Teaching Awards
The Thomas H. Osgood Memorial Awards for Faculty Excellence in Teaching are awarded annually, one to one or more non-tenured faculty members and the other to one or more tenured faculty members.
For 2016, the non-tenured faculty award was shared by Saul Beceiro Novo and Kendall Mahn. The tenured faculty recipient was Tyce DeYoung.
Favorite Grad Teacher Award
The Favorite Graduate Teacher Award is selected annually from among professors teaching graduate-level courses by a vote of the graduate students and was presented in 2016 to Professor Morten Hjorth-Jensen.