2006: 21st Century Jobs
Release Date: Jan 3, 2006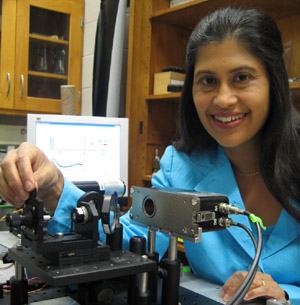 September 2006: Ruby Ghosh, research associate professor of physics, led an interdisciplinary team that received a $914,000 grant from the Michigan 21st Century Jobs Fund (http://www.michiganadvantage.org/21st-Century-Jobs-Fund/) to commercialize a "Dissolved Oxygen Sensor for Continuous (24/7) Monitoring in Aquaculture Applications". The team is comprised of researchers from three colleges at MSU: Per Askeland (Composite Materials & Structures Center), Gregory Baker (Dept. of Chemistry, MSU), Chris Weeks, (Dept. of Fisheries & Wildlife and ABC) as well as two commercial partners: Aquaculture Bioengineering Corporation of Jackson, MI (Harry Westers) and TauTheta Instruments of Boulder, CO (Alan Baron).
The fastest growing sector of agriculture in the world at present is aquaculture. For cost effective, intensive fish production, the most important water quality variable is dissolved oxygen concentration (DO). Using their patented technology, the team plans to develop and commercialize a real time fiber optic DO sensor system that is superior to current monitoring equipment in terms of accuracy, reliability and cost. The sensor is based on the 3O2 quenching of the red emission from hexanuclear molybdenum chloride clusters immobilized in a porous sol-gel matrix (http://www.pa.msu.edu/people/ghosh/). Aquaculture Bioengineering Corp., will market the sensor, which will be commercialized by TauTheta Instruments.

Reflection mode fiber optical oxygen sensor with an inorganic sensing film, comprised of luminescent Mo-clusters embedded in a porous sol-gel matrix.