News
September 14, 2017
Johannes Pollanen invested as Jerry Cowen Chair of Experimental Physics
In a ceremony held on 14 September 2017, Johannes Pollanen, Assistant Professor in the MSU Physics & Astronomy Department, was formally invested as a Jerry Cowen Chair of Experimental Physics.
August 31, 2017
Heiko Hergert receives DoE Early Career Award
Assistant Professor Heiko Hergert of the P-A Dept. and NSCL/FRIB received one of 59 Early Career Research Program Awards for 2017 from the U.S. Department of Energy's Office of Science.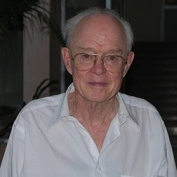 June 1, 2017
NASA Renames Solar Probe Mission in Honor of MSU Physics Alumnus Eugene Parker
In a ceremony at the University of Chicago on 31 May 2017, NASA announced that the former Solar Probe Plus mission, which will launch in 2018, was being renamed the Parker Solar Probe in honor of MSU alumnus solar astrophysicist Eugene Parker. This is the first time a spacecraft has been named for a living person.