2002: Fall Meeting of the Division of Nuclear Physics of the American Physical Society held in East Lansing
Release Date: Jan 3, 2002
Approximately 600 physicists from around the country and around the World gathered in East Lansing from October 8 to October 12 to hold the fall meeting of the Division of Nuclear Physics (DNP) of the American Physical Society (APS).
Before the official opening, an evening reception was hosted by Michigan State University at the National Superconducting Cyclotron Laboratory (NSCL) and the new Biomedical Physical Science Building (BPS), home to the Department of Physics and Astronomy.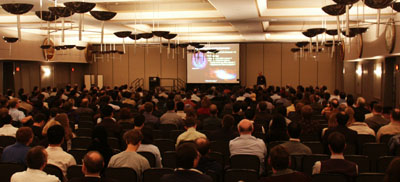 The meeting was opened by MSU Provost Simon who spoke of the importance of nuclear physics in the history of MSU, and of the strong commitment of support for the NSCL that exists at MSU.
The first two plenary talks at the DNP meeting, by Schatz, MSU, and Qian, Minnesota, covered recent discoveries in nuclear astrophysics and neutrino physics. These talks were extremely timely, because they connected to the subjects of this year's Nobel Prize in Physics. (See also the related news story on the Nobel Prize at the APS DNP web site.). The other plenary talks in this session were presented by Arrington and Velkovska.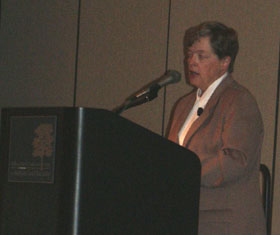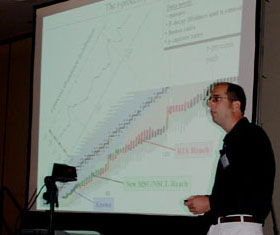 During the remainder of the meeting, all recent developments in nuclear physics were covered in 33 parallel sessions of invited and contributed talks.
Related web sites: