February 2006: Timothy Beers receives the MSU Distinguished Faculty Award
Release Date: Feb 1, 2006
Timothy C. Beers' scientific vision and pursuit of excellence in research, education and outreach has made him the worldwide leader in the search for the oldest and most chemically primitive stars in the galaxy and the universe. His efforts have led to the identification of more than 2,000 stars with metal abundances less than one percent of the solar value.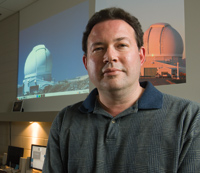 These stars are providing astronomers and physicists with their best records of the chemical composition of the universe from the time of their formation some 13.5 billion years ago and of the origin and evolution of the chemical elements. Beers is a co-discoverer of the two most primitive "still shining" stars known and was named 2003 Michigan Scientist of the Year by Impression 5 Science Center. He is also a co-investigator in the $10 million Joint Institute for Nuclear Astrophysics Physics Frontier Center and spearheads its involvement in the Sloan Digital Sky Survey.
"It is a great honor to be recognized by MSU with the Distinguished Faculty Award. Our university's involvement with the new SOAR 4.1m telescope is an exciting commitment to the future of astronomy at MSU, for which I am most grateful. I have benefited tremendously from the collegiality and advice of my fellow astronomers, physicists and other scientists."
Original article at http://newsbulletin.msu.edu/feb0906/distinguished_faculty.html (this link is no longer available, and there appears to be a gap between 2005 and 2009 on the MSU News site currently, so if they eventually resurrect it, the link will be updated).