February 2004: Raymond Brock and Alex Brown receive MSU Distinguished faculty Award
Release Date: Feb 1, 2004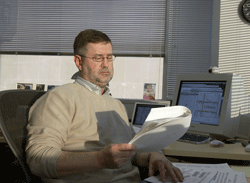 Raymond Brock
Department of Physics and Astronomy
College of Natural Science
Raymond Brock has established an international reputation for pioneering research into the fundamental constituents of matter. He is a leading member of a team working at the world's most powerful particle accelerator, and he already occupies the role of elder statesman in the particle physics community. As a fellow of the American Physical Society, his advice is continually sought in a variety of prestigious appointments: as an independent panel member selected by the governor of Michigan; on program advisory committees at the U.S. Department of Energy, Fermilab, Los Alamos and Stanford University; and as a convener of a U.S.-European working group on particle accelerators. Brock's extremely successful seven years as chairperson of the Department of Physics and Astronomy culminated in the department's move into MSU's new Biomedical and Physical Sciences Building.
Despite his position as a leader in a specialized and esoteric scientific field, Brock is equally at home teaching undergraduates in liberal arts or integrative studies at MSU.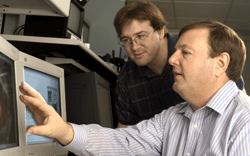 B. Alex Brown
Department of Physics and Astronomy
College of Natural Science
B. Alex Brown is one of the dozen most-often cited nuclear physicists in the world. His international reputation rests on his pioneering research into theoretical nuclear physics. He has made unique contributions to nuclear theory and its applications to the study of exotic nuclei, weak interactions in nuclei and nuclear astrophysics. During his two decades at MSU and the National Superconducting Cyclotron Laboratory, Brown has worked diligently and successfully to foster collaborations between theory and experiment that make MSU's nuclear physics group one of the strongest in the world. His more than 300 articles in peer-reviewed journals have attracted wide attention. The Humboldt Foundation has honored him with its Research Award for Senior U.S. Scientists, and he is a Fellow of the American Physical Society.
Brown has proven that he is capable of teaching any physics class at any level for any audience. He has contributed to the integrative studies concept at MSU since its inception. In addition, he has generously given of his time for outreach programs and partnerships and has written for the general public.