2008: Jerry Cowen Endowed Chair of Experimental Physics
Release Date: Jan 2, 2008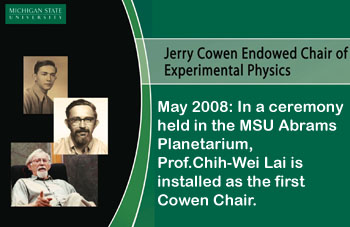 April 29, 2008: In a ceremony in the MSU Abrams Planetarium, Dr. Chih-Wei Lai was installed as the first "Jerry Cowen Chair of Experimental Physics". The Chair's donor and Jerry Cowen's son, Randy Cowen, two daughters of Jerry's, as well as his widow Elaine, were in attendance to help celebrate the occasion. MSU Provost Kim Wilcox, College of Natural Science Dean James Kirkpatrick, and Department of Physics and Astronomy Chairperson Wolfgang Bauer took turns at the podium to highlight the importance of the new endowed chair, before Chih-Wei gave a brief overview of his research program and how it ties in with the tradition that Jerry established. Randy then gave a brief address, outlining what filling the chair in honor of his father means to the family.
Dr. Lai joins our faculty from Stanford University and is an internationally recognized expert in condensed matter physics and quantum optics. His research program promises to strengthen our already strong research efforts in nano-science and nano-technology.
For the department it is now time to start another search … for a second Cowen Chair of Physics.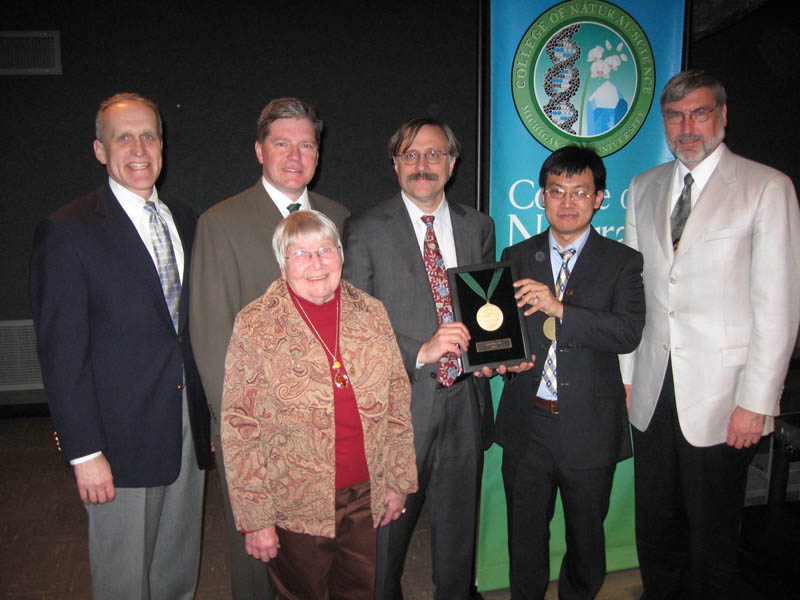 From left to right: Provost Kim Wilcox, Chairman Wolfgang Bauer, Randy Cowen, the donor of the Chair, Chih-Wei Lai, the holder of the chair, Dean Jim Kirkpatrick; in the front Elaine Cowen, Jerry Cowen's widow
Jerry Cowen received his Ph.D. in physics from Michigan State University in 1954. In 1955, Jerry and his wife Elaine moved to Okemos when he returned to teach in the department – a position held until weeks before his death in 1999.
Professor Cowen excelled in both materials science research and teaching, particularly at the undergraduate level. His research spanned five decades and included many international collaborations.
Randolph Cowen donated $2.5 million to create the Jerry Cowen Endowed Chair of Experimental Physics in memory of his father's life and physics career at Michigan State University. In creating this endowed chair, the Cowen family is recognizing Jerry's love for research and instruction in the area of experimental physics.
"His commitment to research inspired all the members of the family to strive to have an impact in a field that we love," explains Randy Cowen. "My father dedicated his life to research in the field of solid state physics. He was always looking for new techniques and materials. With this endowed chair, Michigan State University will have one of the best research efforts in the country in the field of solid state physics so that cutting-edge research can attract a new generation of graduate students like my father."