Danny Caballero receives President's Distinguished Teaching Award
Release Date: Nov 30, 2017
In a surprise visit to the PHY481 Electricity and Magnetism class being held in one of the Biomedical & Physical Sciences Building's lecture rooms at 1 pm on Wednesday, November 29, 2017, MSU President Lou Anna K. Simon presented the 2018 President's Distinguished Teaching Award to the person teaching the course, Danny Caballero.
Dr. Marcos D. "Danny" Caballero is a physics education research­er who studies how tools affect student learning in physics, and the conditions and environments that support or inhibit this learning. He is an Assistant Professor in the MSU Department of Physics & Astronomy and a member of MSU's CREATE for STEM Institute.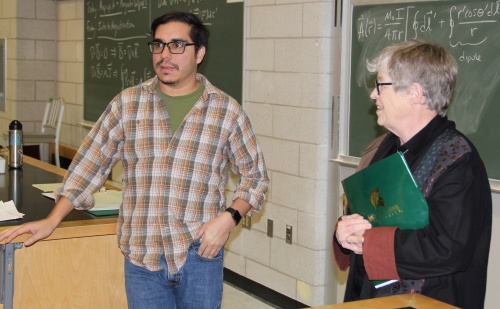 The presentation of the President's Distinguished Teaching Award is intended as a surprise for the recipient. Here, the surprise involves an unannounced visit by MSU President Lou Anna K. Simon to Asst. Prof. Danny Caballero's PHY481 class.
Caballero conducts research from the high school to the upper-division and is particularly interested in how students learn physics through their use of tools such as mathematics, computing, and language. His work employs cognitive and socio-cultural theories of learning and aims to blend these perspectives to enhance physics instruction at all levels. Danny's projects range from the fine-grained (e.g., how students engage with particular mathematical tools) to the coarse-scale (e.g. how students learn the tools of classical mechanics) to the very broad (e.g., how do students in a massively open online course act like scientists?).
"Dr. Caballero has had a remarkable positive influence on the teaching culture in our department," Dr. Phillip Duxbury, chairperson and professor in the MSU Department of Physics and Astronomy, said. "His education research is focused on student outcomes, and he is expert in building consensus for bringing about change to evidence-based teaching practice. He is a rising star in his research field, he is a terrific influence on the education environment in the Physics and Astronomy department, and he is considered a superlative teacher by both faculty observers and by students in his courses. It is a privilege to have Dr. Caballero in our department."
Caballero's teaching excellence is further amplified by his research program in Physics Education Research (PER), which has brought international recognition to MSU in this area and has attracted over $3 million in federal funding. He is also a world leader in developing and assessing effective teaching environments, with a particular focus on utilizing computational methods at all levels. A further impressive achievement is that Caballero has been appointed as part of a team charged with a complete revision of the STEM curriculum at the University of Oslo in Norway.
In recognition of the role that faculty play in creating innovative environments that enable student learning within and across disciplinary, cultural, and ethnic boundaries, Carl Liedholm, professor in the MSU Department of Economics, and his wife Margaret have established the President's Distinguished Teaching Award. The award is open to current MSU faculty members who have a sustained record of substantial teaching responsibilities for MSU and who have implemented creative and engaging ways that foster student learning. Recipients receive a $3,000 stipend and are recognized both during a class taught by the winner and again at the annual All-University Awards Convocation on February 6, 2018.
Caballero was the choice of the selection committee, from a field composed of two dozen distinguished teachers at MSU, many with decades of teaching experience.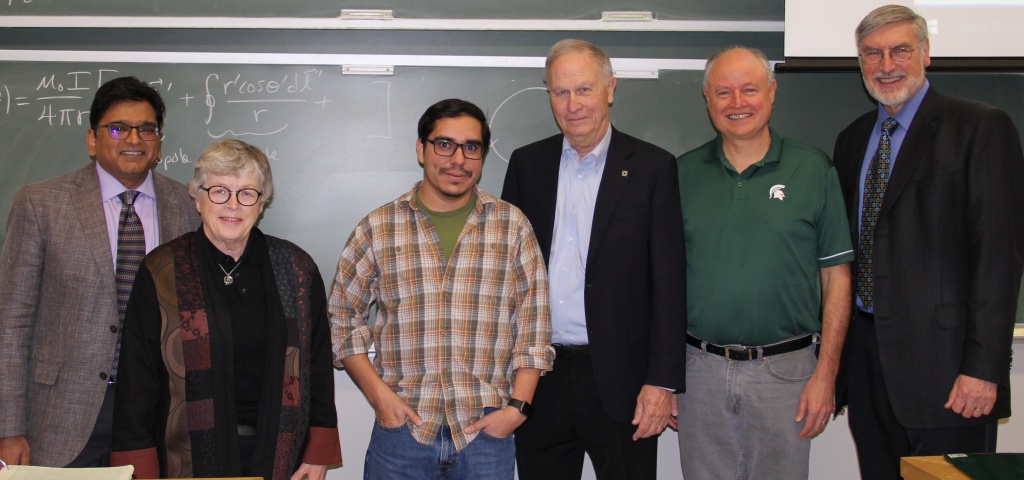 From left to right, R. Sekhar Chivukula, MSU Associate Provost for Undergraduate Education; Lou Anna K. Simon, MSU President; Danny Caballero, the recipient of the award; Carl Liedholm, the donor who established the award; Phillip Duxbury, chair of the MSU Physics & Astronomy Dept.; R. James Kirkpatrick, Dean of the MSU College of Natural Science
---
[Photo credit: Stepheni Schlinker]