July 2003: Carl L. Foiles Award for Physics Students endowed
Release Date: Jul 1, 2003
The family and friends of Dr. Carl L. Foiles have created an endowed student award in his memory at the Michigan State University in the Department of Physics and Astronomy.
"He was a loving husband and wonderful father to our children, Allen and Andrea," shared his wife, Ruth Ann. "He was an avid teacher and physicist, and let this love for his work touch every aspect of his life."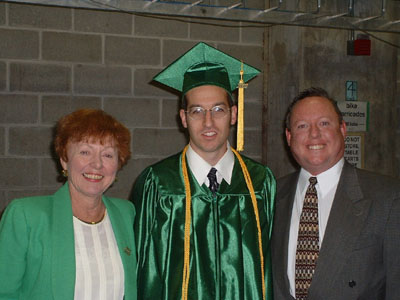 Ruth Ann Foiles and her son Allen with the first
Foiles Award winner, Jesse J. Chvojka (center)
During his career, including over 35 years of teaching and research, Carl touched numerous lives by always thinking of others before himself, and was always the first to give a helping hand whenever needed.
Carl's original degrees were in electrical engineering, but his passion became physics. Throughout his career as a student, Carl worked hard to put himself through school. He was fortunate that he was the recipient of several scholarships and grants, and always remained an excellent student.
In honor of Carl's memory, his family and friends gifts will support other students in their pursuit of a physics education. This award is intended to enhance the Department's efforts to attract and retain undergraduate and graduate students who, like Carl, have demonstrated capacity to achieve educational and professional goals.
Suzette Hittner, 2003