2015: Noted Astronomer Andrea Ghez to Give Special Colloquium Talk and Public Lecture September 29th
Release Date: Jan 3, 2015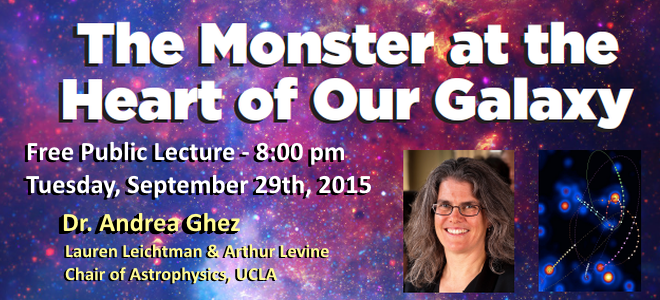 The MSU Department of Physics and Astronomy will host noted astronomer Andrea Ghez of UCLA, Monday, September 28th and Tuesday, September 29th.
After meeting with MSU faculty members on Monday afternoon and Tuesday, Dr. Ghez will give a special departmental colloquium talk at 4:10 pm on Tuesday titled "Our Galactic Center: A Laboratory for Exploring the Physics & Astrophysics of Black Holes." At 8:00 pm that evening, she will give a free public talk titled "The Monster at the Heart of Our Galaxy" as part of the MSU Physics & Astronomy Distinguished Lecture Series.
About the speaker:
Dr. Andrea Ghez is the Lauren Leichtman & Arthur Levine Chair of Astrophysics at UCLA and the recipient of the 2012 Crafoord Prize in Astronomy (administered by the Royal Swedish Academy of Sciences) among other awards and honors. For further information about Dr. Ghez, you may read her UCLA home page or the Wikipedia article about her.