April 2017: Joey Huston named MSU Foundation Professor
Release Date: Apr 2, 2017
In an investiture ceremony held in room 1415 BPS Building on 20 April 2017, Physics & Astronomy Professor Joey Huston was honored as an MSU Foundation Professor.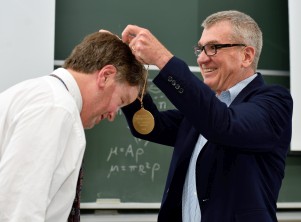 Joey Huston (left) receives his MSU Foundation Professor medal from Doug Gage, MSU assistant vice president for research and graduate studies.
The MSU Foundation Professorships, established in 2014, are part of an initiative to attract and retain highly successful faculty members. Each of the recipients receives five years of supplemental research support and holds the MSU Foundation Professor designation permanently.
Prof. Huston is a part of the experimental high energy physics research group at MSU and has extensive expertise in particle physics phenomenology and the matching of theoretical expectations to experimental results. He is a member of the Higgs Cross Section Working Group and the PDF4LHC Working Group at the Large Hadron Collider in Geneva, Switzerland.
For more information, see the online article at the College of Natural Science website.