Laura Chomiuk receives NSF Early CAREER Award
Release Date: Mar 27, 2018
MSU Physics & Astronomy Assistant Professor Laura Chomiuk is one of six faculty members, all women, in the MSU College of Natural Science to receive a 2018 National Science Foundation (NSF) Early CAREER Faculty Award.
The CAREER Award is one of NSF's most prestigious awards in support of early career faculty members who exemplify the role of teacher-scholars through outstanding research, excellent education and the integration of education and research. To be eligible, an investigator must be currently untenured, but in a tenure-track assistant professor position requiring both research and educational responsibilities.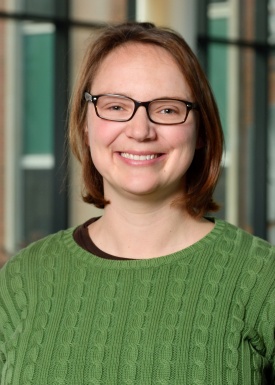 Laura Chomiuk
Laura Chomiuk is an assistant professor in the Department of Physics and Astronomy and the director of the MSU Observatory. She received a 5-year $730,425 grant from NSF's Division of Astronomical Sciences for research efforts aimed at understanding the conditions under which novae are shock-powered. As part of the grant, Chomiuk will also engage school-age students from rural backgrounds through Michigan 4-H and plans to lead programs at residential Exploration Days and start an Astronomy Club for Ingham and Eaton counties.
"I am thrilled to not only have my research on novae explosions supported, but to also be recognized for my ongoing education and public outreach efforts at the MSU Campus Observatory," Chomiuk said. "I hope this grant will provide educational experiences, not only to students in the Department of Physics and Astronomy, but statewide to a diversity of ages, through collaboration with Michigan 4-H."
Chomiuk, who grew up in Metro Detroit, received her Ph.D. in astronomy from the University of Wisconsin – Madison. Honors include the award of a Jansky Fellowship of the National Radio Astronomy Observatory and being named a 2017 Cottrell Scholar. She returned to Michigan in 2013 to join the faculty in MSU's Department of Physics and Astronomy and has enjoyed teaching and mentoring students by studying explosions of novae and supernovae.
Assistant Professor Chomiuk joins five other female MSU College of Natural Science faculty members in receiving NSF Early CAREER Awards this year, marking the first time six of these awards have gone to the faculty of a single MSU college.
"NSF CAREER awards are a strong confirmation of the high caliber of our junior faculty and a very positive indicator of their future career trajectory," said Stephen Hsu, vice president for research and graduate studies at MSU. "These awards are extremely competitive, so to receive six in one college is extraordinary."
"NatSci is proud of the women faculty who received prestigious NSF CAREER awards this year," said Cheryl Sisk, NatSci interim dean. "This national recognition of their talent is well-deserved and will enhance the research and educational experiences of many MSU students."
For additional information, see the NSF web page about the CAREER program and the March 27th College of Natural Science web article and MSU Today article covering all six 2018 award recipients from the College.
---
Photo credit: Harley Seeley
Other credits: A substantial portion of this article is excerpted from the College of Natural Science web article written by Val Osowski.