2003: LON-CAPA receives Computerworld Honors
Release Date: Jan 1, 2003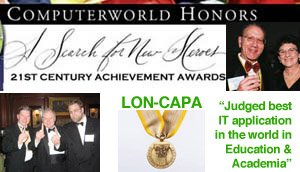 Washington, D.C. - June 3, 2003 - Michigan State University's College of Natural Science received the coveted 21st-Century Achievement Award last night from the Computerworld Honors Program for visionary use of information technology in the category of Education & Academia. Merritt Lutz, Managing Director of Morgan Stanley nominated Michigan State University, College of Natural Science in recognition of its contributions to the global information technology revolution and its positive impact on society.
Judged best IT application in the world in Education & Academia
This year's awards, in ten categories, were presented last night by Patrick J. McGovern, founder and chairman of International Data Group, and Maryfran Johnson, editor-in chief, of Computerworld, at a gala event at the National Building Museum, attended by over 500 guests, including leaders of the information technology industry, former award recipients, judges, scholars, and diplomats representing many of the 53 countries from which the 15-year-old program's Laureates have come.
The following is a short summary of the award-winning case study:
A distributed open-source learning content management and assessment system provides instructors with a common, scalable platform to assist in all aspects of teaching a course.
The case study about Michigan State University, College of Natural Science, together with the case studies from the other winners and Laureates of the 2003 Collection, is available on the Computerworld Honors Program Archives On-Line, www.cwheroes.org, and also distributed to more than 125 members of the Computerworld Honors Global Archives.
From more than 400 nominations submitted this year by the 100 industry chairmen and CEO's who serve on the program's Chairmen's Committee, 313 were honored as Laureates at ceremonies in San Francisco, on April 6, 2003, when their case studies officially became part of the Computerworld Honors 2003 Collection. Of these, 60 Finalists were chosen by a panel of distinguished judges to attend last night's gala in Washington, D.C., at which 12 were announced winners of the award.
Honorees were celebrated for their significant achievements in the use of information technology to benefit mankind across the following 10 categories: Business and Related Services; Education and Academia; Environment, Energy and Agriculture; Finance, Insurance and Real Estate; Government and Non-Profit Organizations; Manufacturing; Media, Arts and Entertainment; Medicine; Science; and Transportation.
"Recipients of the Computerworld Honors 21st-Century Achievement Awards represent those organizations whose use of information technology has been especially noteworthy for the originality of its conception, the breadth of its vision, and the significance of its benefit to society," said Daniel Morrow, Executive Director of the Computerworld Honors Program.
This year's collection includes innovative applications of technology from 36 states and 33 countries. Additional information about the 2003 Collection is available at www.cwheroes.org, where the entire collection is available to scholars, researchers and the general public.
Each year, the Computerworld Honors Chairmen's Committee nominates organizations who are using information technology to improve society for inclusion in the Computerworld Honors Online Archive and the Collections of the Global Archives. The Global Archives represents the 125-plus institutions from more than thirty-five countries that include the Computerworld Honors Collection in their archives and libraries.
Founded in 1988/89, the Computerworld Honors Program searches for and recognizes individuals who have demonstrated vision and leadership as they strive to use information technology in innovative ways across ten categories: Business & Related Services; Education & Academia; Environment, Energy & Agriculture; Finance, Insurance & Real Estate; Government & Non-Profit Organizations; Manufacturing; Media, Arts & Entertainment; Medicine; Science; and Transportation.
For further information please contact:
Frank Potter
Associate Director
Computerworld Honors Program
(703) 481-1804
frank@cwheroes.org

---
[This is a locally cached copy - original located at http://www.cwheroes.org/caa_4_a_press.asp?id=4422 ]
---
Select this for an informational video about the LON-CAPA system.