2001 Featured Story #4: President McPherson Donates to SOAR
Release Date: Jan 3, 2001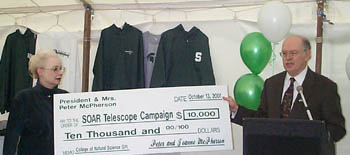 Peter McPherson will donate $25,000 back to the University to help support two programs with ambitious international goals.
He has designated $15,000 for scholarships to study abroad for students in the College Academic Achievement Program (CAAP), which serves first-generation and low-income MSU students, and $10,000 in support for the SOuthern Astrophysical Research (SOAR) telescope project in Chile.
This is the second consecutive year that McPherson has donated $25,000 back to his alma mater for specifically designated purposes. Last year, he allocated it to a campus beautification project.
"Both CAAP and the SOAR project represent the kind of internationally connected educational and outreach programs that help define MSU," said McPherson, noting that he and MSU's first lady, Joanne McPherson, consider it a privilege to be able to give back to a University that they support both professionally and personally.
"Joanne and I think it is very important that all MSU students see a study abroad experience as not only a possible endeavor but as a natural self-expectation," he said. "These funds, we think, will support and stimulate students to see study abroad in that light.
"Joanne and I also are pleased to contribute toward the SOAR project, which will enhance MSU's stature in the international observational astronomy community, stimulate student interest on campus and serve the people of Michigan in a variety of ways."
CAAP, under the auspices of MSU's Office of Supportive Services, helps students who may be the first in their families to attend college, who are from low-income families, or who meet other criteria that pose challenges to the achievement of a college degree. It provides mentoring, advising and other services to help the students achieve their academic goals.
The services range from a 12-week freshman orientation seminar, which helps new CAAP students adjust to University life, to a special resident fellows program. More information about the program can be accessed on the Web at: oss.msu.edu
The SOAR project teams MSU with others around the world to build and operate a high-resolution telescope that will bring the wonders of the universe to astronomers and their students at MSU and throughout Michigan. Currently being built near La Serena in the clear-aired mountains of Chile, the SOAR telescope will be the most advanced optical telescope of its kind.
The computer-controlled, four-meter telescope will gather images in the infrared region. This will allow astronomers and students the opportunity to witness the birth of stars and galaxies and search for planets orbiting nearby stars.
Joining MSU in the SOAR project are the University of North Carolina, the National Optical Astronomy Observatories and the country of Brazil. The nation of Chile is a de facto partner.
Ground was broken for the project in April 1998. Officials are targeting October 2002 for the SOAR telescope to begin capturing its first images.
Additional information is available on the SOAR Web site at: www.pa.msu.edu/soarmsu/

Copyright 2001 Michigan State University Division of University Relations.