2001 Featured Story #1: Modeling the Sun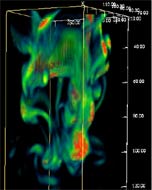 Robert Stein, Professor of Physics and Astronomy at Michigan State University, and Aake Nordlund of Copenhagen University Observatory in Denmark are using NCSA's SGI Origin2000 supercomputer to simulate the processes behind the sun's smaller-scale features. Creating massive models of portions of the sun, their research team is focused on understanding convection and magnetic flux near the solar surface.
The NCSA website has the full story.