September 2003: Milton Muelder endows distinguished lectureship
Release Date: Sep 1, 2003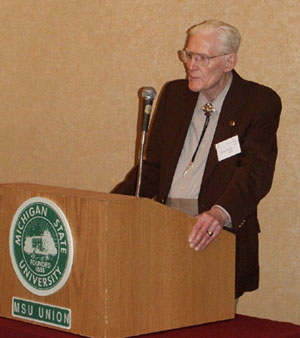 Dr. Milton Muelder during his presentation at the 75th birthday symposium for Dr. Henry Blosser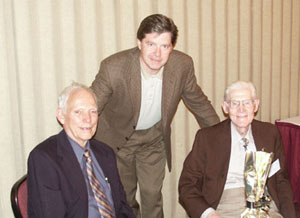 Dr. Henry Blosser, Chairperson Bauer, and Dr. Milton Muelder at the symposium dinner
Sept. 10, 2003: Dr. Milton E. Muelder has endowed an annual lectureship for the Department of Physics and Astronomy. He intended to name it in honor of his long-time friend Dr. Henry Blosser. However, Henry insisted that he would only accept this honor if the lectureship would also carry Milton's name. And so they compromised, and the lectureship will be known as the Dr. Henry Blosser and Dr. Milton E. Muelder Endowed Lectureship.
Dr. Milton Muelder is a life-long supporter and employee of Michigan State University who retired as Vice-President Emeritus and Dean of the Graduate School. He was essential in bringing a world-class nuclear physics program to MSU and hired University Distinguished Professor Emeritus Henry Blosser into the faculty of MSU to provide the initial momentum for this program. Dr. Blosser was the founding director of the National Superconducting Cyclotron Laboratory and a professor in the Department of Physics and Astronomy.
Following the wishes of the donor, the lectureship endowment income will be used to fund a special annual lecture in accelerator physics, nuclear physics, particle physics, or astrophysics.