February 2001: Strosacker Foundation donates $250,000 for the Physics Learning Center in our new science building
Release Date: Feb 2, 2001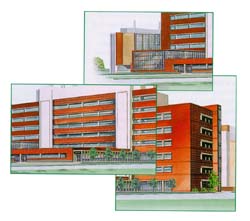 Story by Rick Seguin
The Charles J. Strosacker Foundation of Midland has given Michigan State University a grant of $250,000 to be used toward the new Biomedical and Physical Sciences Facility currently under construction on campus.
The grant will specifically fund the Collaborative Teaching Laboratory in that part of the facility that will be utilized by the Department of Physics and Astronomy. Such a laboratory gives the department an opportunity to teach in a setting that best allows students to interact and develop their science skills.
"In addition to being the first lab of its kind on MSU's campus, it will also be one of the first of its kind in the nation designed for one-on-one, active learning opportunities in physics," said Eugene C. Yehle, Chairman of the Charles J. Strosacker Foundation. "The trustees of the foundation support this effort and innovation and are happy to be able to ensure its existence in the facility."
Recent experiments with collaborative learning have proven to MSU faculty that a more personalized approach greatly benefits students. Gathering students in large spaces with grouped tables, computers, and blackboards promotes collaborative learning which, after several years of experimentation in the department, clearly reinforces the mathematical and physical reasoning needed to firmly grasp the concepts of physics.
"Physics faculty at MSU have been learning over a long period of time the benefits of teaching in a collaborative atmosphere," said Wolfgang Bauer, Chair of the Physics and Astronomy Department. "The new facility will enable us to build on our strength and enhance our national leadership position in this field as well as enable us to teach our students more effectively."
"The Strosacker Foundation has been a generous supporter of Michigan State University in the past, and this gift is further evidence of their commitment to supporting important educational opportunities," said MSU President Peter McPherson. "We're glad to count the Foundation among our most significant supporters of the new science facility."
The new Biomedical and Physical Sciences facility is a seven story, 350,000 square foot building located at the corner of Wilson Road and Farm Lane on MSU's campus. It will connect with the biochemistry and chemistry buildings to create the largest research complex on campus and will provide much needed space for several colleges and departments across campus.
Of the total $93 million cost for the facility, MSU is responsible for raising $13.3 million from private sources. The Strosacker Foundation gift brings MSU's efforts to over $11 million to date.
The Foundation was established in 1957 by the late Charles J. Strosacker, one of the pioneers of Dow Chemical Company, to assist and benefit political subdivisions of the State of Michigan, and religious, charitable, benevolent, scientific and educational organizations.