2014: Noted Climatologist Kevin Trenberth to Give Colloquium Talk and Public Lecture September 18th
Release Date: Jan 4, 2014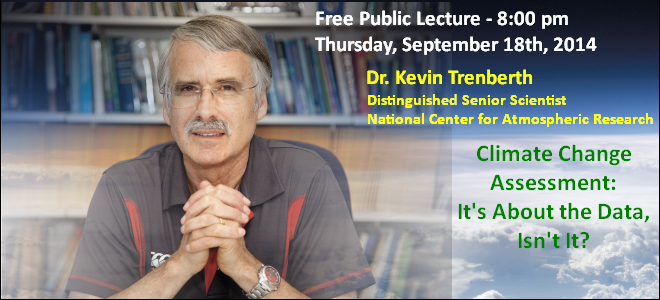 The MSU Department of Physics and Astronomy will be visited by internationally noted climatologist Dr. Kevin Trenberth, Distinguished Senior Scientist at the National Center for Atmospheric Research (NCAR), on Thursday, September 18th, 2014.
At 4:10 pm, Dr. Trenberth will give the weekly departmental colloquium talk on the topic "Earth's Energy Balance Revisited". See this for more details.
Later, at 8:00 pm, he will present a free public lecture in room 1410 of the MSU Biomedical & Physical Sciences Building entitled "Climate Change Assessment: It's About the Data, Isn't It?" For more information on this talk, see this.
About the speaker:
Dr. Kevin Trenberth is part of the Climate Analysis Section at the National Center for Atmospheric Research (NCAR). He was one of the lead authors of the 2001 and 2007 United Nations Intergovernmental Panel on Climate Change (IPCC) Scientific Assessment of Climate Change reports, and as such shared in the 2007 Nobel Peace Prize shared by the IPCC and Al Gore. For more information about Dr. Trenberth, you may read his NCAR profile and/or the Wikipedia article about him.