Adam M. Jacobs
Release Date: Aug 10, 2017
Categories: Research Associates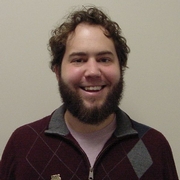 Research Associate
Astronomy & Astrophysics; Cyclotron
Biomedical-Physical Sciences Bldg.
567 Wilson Rd., Room 3255
(517) 884-5606
jacob308@msu.edu
http://www.amjacobs.net/
Education:
2016: Ph.D. in Physics, Stony Brook University
2009: B.A. in Physics and Computer Science (double major), Hendrix College
Selected Publications
"Low Mach Number Modeling of Convection in Helium Shells on Sub-Chandrasekhar White Dwarfs II: Bulk Properties of Simple Models," A. M. Jacobs, M. Zingale, A. Nonaka, A. S. Almgren, & J. B. Bell, Astrophysical Journal, 827, 84 (2016).
Professional Activities & Interests / Biographical Information
In August 2016, Adam Jacobs joined MSU as a postdoctoral fellow in theoretical nuclear astrophysics with the Joint Institute for Nuclear Astrophysics – Center for the Evolution of the Elements (JINA-CEE), working with members of the MSU Department of Physics & Astronomy and the Facility for Rare Isotope Beams (FRIB).
His research focuses on the analysis of Type I X-ray bursts and related transients, using theory and computation to model such systems for comparison with astronomical observations and, at the other end of the scale, experimental nuclear physics results.