Reza Loloee
Release Date: Aug 12, 2017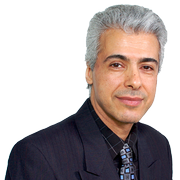 CMP Specialist
Condensed Matter Physics - Experimental
Biomedical-Physical Sciences Bldg.
567 Wilson Rd., Room B104
(517) 884-5686
loloee@msu.edu
http://www.pa.msu.edu/people/loloee/
Lab:
B148 Biomedical-Physical Sciences Bldg.
(517) 884-5685
Education:
Ph.D., Materials science engineering (Applied physics)
M.S., Metallurgy
M.S., Physics
B.S., Physics
Selected Publications
Spin Triplet Supercurrent in Co/Ni Multilayer Josephson Junctions with Perpendicular Anisotropy; (E. C. Gingrich, P. Quarterman, Y. Wang, R. Loloee, W. P. Pratt Jr, and N. O. Birge), Phys. Rev. B. 86, 224506 (2012).
Spin flipping at sputtered Co/Ag interfaces, (Nguyen, H. Y. T.; Loloee, R.; Pratt, W. P., Jr.; and Bass, J.), Phys. Rev. B., 86, 6, (2012).
Synthesis, Structure, and Characterization of [FeIIILCl3] (L=1, 4, 8-Triazacycloundecane, 1, 4, 7- Triazacyclononane), (Banerjee, Atanu; Panda, Manashi; Tolla, Azam S.; Banerjee, Tanu; Li, Jia; Brennesse, William W.; Loloee, Reza; and Chavez, Ferman A.), ZEITSCHRIFT FUR ANORGANISCHE UND ALLGEMEINE CHEMIE Volume: 638 Issue: 10 Pages: 1473, (2012).
Epitaxial Ni3FeN thin films: A candidate for spintronic devices and magnetic sensors; (Loloee, Reza), J. Appl. Phys., 112, 023902, (2012).
Professional Activities & Interests / Biographical Information
Dr. Loloee is a Materials science specialist who is in charge of common facilities in the CMP group. He trains, supervises and helps students and post-docs while he conducts research and collaborates with faculty members.
Some of his research interests and expertise are:
Growth and characterization of polycrystalline and epitaxial thin films (Normal Metals, Magnetic Materials, Semimetals, and Insulators).
Crystallographic characterization of thin films and multilayers using Transmission and Scanning Electron Microscopy
Design and characterization of optical oxygen sensors (in liquid media "Dissolved Oxygen (DO)" and in gaseous media)
Design and characterization of SiC Hydrogen gas sensors for high temperature and harsh environments.
Scientific instrumentation design including ultra-high vacuum systems; thermal evaporation; low temperature measurement apparatus.