Kostyantyn Nasyedkin
Release Date: Aug 14, 2017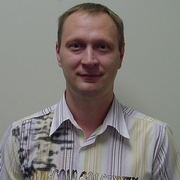 Research Associate
Condensed Matter Physics - Experimental
Biomedical-Physical Sciences Bldg.
567 Wilson Rd., Room 4243
(517) 884-5673
nasyedki@msu.edu
Lab:
B116 Biomedical-Physical Sciences Bldg.
(517) 884-5694
Education:
2008: Ph.D., B. Verkin Institute for Low Temperature Physics and Engineering (Kharkov, Ukraine)
2005: M.S., National Technical University "Kharkiv Polytechnic Institute" (Kharkiv, Ukraine)
2003: B.S., National Technical University "Kharkiv Polytechnic Institute" (Kharkiv, Ukraine)
Selected Publications
Response of electron crystals to external excitation with incomplete holding field compensation, V. E. Syvokon, K. A. Nasyedkin, and I. V. Sharapova, Low Temperature Physics 42, 721 [2016].
Nonlinear surface electron transport over liquid helium, K. A. Nasyedkin, V. E. Sivokon, Yu. P. Monarkha, and S. S. Sokolov, Low Temperature Physics 35, 757 [2009].
Professional Activities & Interests / Biographical Information
Kostyantyn Nasyedkin joined the MSU Department of Physics and Astronomy as a Research Associate in May 2017 after working as a postdoctoral researcher at RIKEN since September 2013. He works with Assistant Professor Johannes Pollanen in the experimental condensed matter physics group.