Carl Schmidt
Release Date: Aug 19, 2017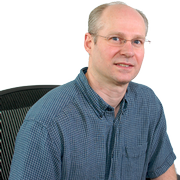 Associate Professor
High Energy Physics - Theoretical
Biomedical-Physical Sciences Bldg.
567 Wilson Rd., Room 3211
(517) 884-5558
schmi113@msu.edu
http://www.pa.msu.edu/people/schmidt/
Education:
1990: Ph.D., Harvard University
Selected Publications
Higgs Boson Cross Section from CTEQ-TEA Global Analysis, S. Dulat, T.-J. Hou, J. Gao, J. Huston, P. Nadolsky, J. Pumplin, C. Schmidt, D. Stump, and C.-P. Yuan, Phys. Rev. D89 (2014) 113002.
Radiative Electroweak Symmetry Breaking in a Little Higgs Model, R. Foadi, J. T. Laverty, C. R. Schmidt, and J.-H. Yu, JHEP 1006 (2010) 026.
Professional Activities & Interests / Biographical Information
Dr. Schmidt is a member of the CTEQ collaboration.