About MSU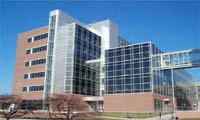 The Physics Astronomy department moved in 2002 into the Biomedical and Physical Sciences Building, the largest academic building on the campus of Michigan State University. Designed as the centerpiece of the emerging scientific complex at the heart of the campus, this new facility is connected to the Biochemistry and Chemistry buildings by walkways at several levels. These architectural connections symbolize the extensive cross-disciplinary contacts and expanded cooperation that this new building encourages.
Michigan State University, one of the oldest land-grant colleges, was founded in 1855 for the purpose of furthering the interests of agriculture and the mechanic arts. From this modest beginning it has grown to become one of America's largest universities, with many educational innovations to its credit. Through its 17 colleges and more than 100 departments, it offers 200 different programs leading to undergraduate and graduate degrees. Students come from all counties in Michigan, all 50 states, and more than 130 countries.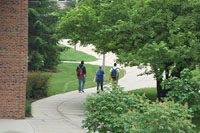 The university campus is well known for its natural beauty and spaciousness, its park-like walks, and its trees and flowering gardens. Extensive indoor and outdoor athletic facilities are available for general use by the university community.
The University sponsors numerous artistic and cultural events which feature internationally known performers and lecturers. In addition, the School of Music and the Department of Theatre sponsor frequent concerts, recitals and plays. Many of the performances take place in the Wharton Center which opened in 1982. This facility houses two theaters: the 2,500-seat Great Hall and the 600-seat Festival Stage.
Michigan State University subscribes to the principles of equal opportunity. University programs, activities and facilities are available without regard to race, color, sex, religion, creed, national origin, political persuasion, sexual preference, marital status, handicap, or age.
The on-campus enrollment at Michigan State University for the 2016 fall semester was approximately 50,300, including over 11,000 graduate and professional students.