Michigan State University Physics & Astronomy Map
MSU provides clickable and printable campus maps at high resolution.
For quick reference, this is a low-resolution map showing the locations of sites associated with the Michigan State University Department of Physics & Astronomy: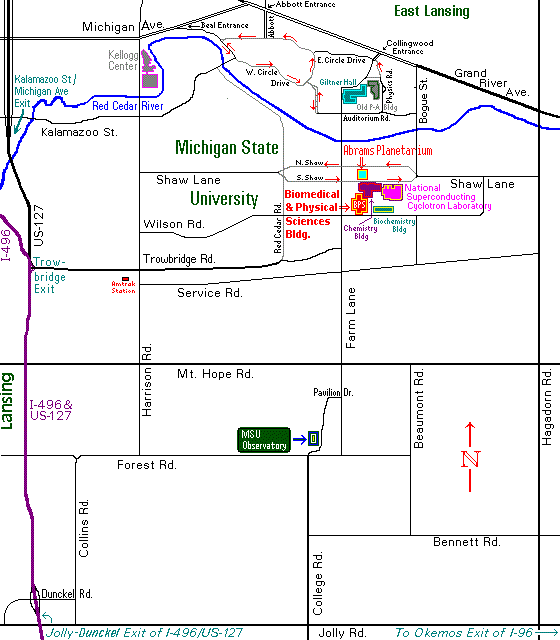 The Physics & Astronomy Department has its primary offices in the Biomedical & Physical Sciences Building on Wilson Road east of Farm Lane, south of the Chemistry Building. The Department of Physics and Astronomy shares this building (opened in February 2002) with the Department of Physiology and the Department of Microbiology & Molecular Genetics. The Academic Affairs (Undergraduate/Graduate) Office is in room 1312, on the ground floor at the south end of the central section of the BPS Bldg. The Chair's Office and Business Office are in room 4208, on the fourth floor at the south end of the eastern section (left turn from the south elevators, second door on the right, on the way to the walkway to the Biochemistry Bldg.). Parking is in the Shaw Lane parking structure (north of the NSCL and Chemistry Bldgs, east of Abrams Planetarium; it has staff "sticker" parking and metered visitor parking) or in the lot west of Abrams Planetarium (staff only).
The National Superconducting Cyclotron Laboratory is on South Shaw Lane (one-way eastbound), south of the Red Cedar River. Staff parking is in the Shaw Lane ramp (north of the NSCL and Chemistry Bldgs, east of Abrams Planetarium). Visitor parking is just east of the NSCL.
Abrams Planetarium is on Farm Lane between North and South Shaw Lanes, south of the Red Cedar River (parking is immediately in front of it, between the Planetarium and Farm Lane).
The MSU Observatory is just north of the intersection of College Road and Forest Road in the remote southern region of the MSU campus, accessible from the MSU Pavilion access road. Parking is immediately west of the Observatory; overflow parking is a short distance northeast at the MSU Pavilion.
The hotel in the Kellogg Center, on the east side of Harrison Road between Kalamazoo Street and Michigan Avenue, is where many visitors to the MSU P-A Department (e.g.,Colloquium speakers & conference attendees) stay. There is a large parking structure adjoining the Kellogg Center at its southern end.
There are still some P-A facilities (Acoustics/Psychoacoustics) in Giltner Hall, on East Circle Drive immediately west of the Old Physics-Astronomy Building (parking areas are the same as for the Old P-A Bldg).
---